World War II in Navy photo recognition slides
Float planes on Navy warships; Curtiss and Vought competed.
(A B-25 Mitchell like those the Doolittle raiders flew toTokyo from an aircraft carrier is also seen here).
Copyright 2014
You have reached the /wwii folder's index page, the 4th folder on this website. This folder's priority includes Navy WW II Recognition slides. Ships and aircraft are in the slide set. In usable internet location language, this page is: www.daileyint.com/wwi/index.htm
The focus will be on aircraft recognition in this folder. .As a transition from the book at the upper left, "Joining the War at Sea 1939-1945" promoted in the folder www.daileyint.com/seawar and book cover pictured just below it, "The Triumph of Instrument Flight," promoted in the folder www.daileyint.com/flying
I would like first to higlight three individuals from two event s of human valor.I do this because their outstanding performance was never officially recognized by the United States Navy.
First event. Richard Hofer, Class of 1942 U.S. Naval Academy, graduated from that institution in December 1941 just six months before I did in June 1942. Dick was at the Academy for three and one half years and I was there for three years, as our military traning academies ramped up for war. Dick reported to the USS Edison, DD-439, six months before I arrived for duty on that ship in July 1942. We bunked together in a stateroom just forward of the officer's mess. We served together for Casablanca, Sicily, Salerno and Anzio. He became Edison's Gunnery Officer after Sicily, and as told in my book at upper left, was one of Edison's team of four officers, three on the bridge with Dick in the Gun Director, who fought the ship at Salerno, where Edison and the cruiser USS Philadelphia together, in mine-nfested in shore waters, kept the Tiger tanks of Kesselring's Army from enfilading and annihalating our U.S. Army landing forces at Paestum, Italy, on D-day! But, it is earlier in the book when I learned of the capabilities of Dick Hofer. It was my first convoy out of Halifax NS. A convoy so important that a whole squadron of destroyers, nine in all, of DesRon 13, was assigned as escorts around the convoy, whose ocean escorts included the heavy firepower of :USS Phildadelphia and the battleship USS New York. On the first night out of Halifax, Convoy AT-20 encountered fog! In little swirls. In ,and out. In and out. The convoy was closed up tight and the ships behind the front column were keeping station not on the ship ahead, but on a towing spar streamed by that ship! I will leave out essential detail included in the book to briefly note that USS Buck DD-420, was ordered to deliver a change of course message to the ship in convoy with the Convoy Commodore aboard. Buck attempted to cross the port column of Convoy AT-20 between the lead ship in that column and the second ship on the column. The second ship, the troop transport Awatea carrying 5,000 Canadian troopers, could not avoid cutting off the stern of the USS Buck! A tragic loss of the men in Buck's after steering engine room was one result but that only led to a much more severe tragedy. That later tragedy occurred when the USS Ingraham DD-444, almost on an opposite course to investigate a 'collision in the convoy,' was hit by the Navy tanker USS Chemung. Ingraham was sliced in two as it exploded, sank immediately, with only eight survivors! I was on the bridge of the USS Edison to relieve Dick Hofer as Junior Officer of the Deck underway. We observed the flash of the Ingraham's explosion as she sank. We did not know at that moment what had happened as our station in the convoy was on the opposite side of the convoy where the two collisions had occurred. Dick had just relayed to me that the TBS voice speaker on our bridge had just received from the Task Force Commander 's station on the USS Philadelphia a meswsage to the Ingraham: "There has been a collision in the convoy. Close the convoy at high speed and investigate." The facts as determined later from a Court of Inquiry attended by Chemung officers, determined from the latter's tesitmony that the Ingraham was making a much higher speed of advance than the fog conditions would have supported. Dick Hofer then provided me, in my first JOOD watch undereay, in my first enemy waters night at sea inWorld War II, a thorugh briefing prelude to a midwatch full of events, any one of which would have been enough for a lifetime!.
Second Event. Iinvolving human performance not officially recognized by the United States Navy in or just after World War II
Orville Hollenbeck. He was an Ensign USNR from North Carolina, serving as Navigator in a flight crew led by Navy Lt. Hugh Burris, piloting a PB4Y-2 Privateer in VP-107 based at NAS Kodiak, Alaska, in the fall of 1946. The equally deserving Walter Maximilian Munk was the Patrol Plane Commander (PPC) of a PBY-5A Catalina based at NAS Adak Alaska. He was a graduate in the Class of 1942 of the U.S. Naval Academy. The S&R event involved three men on a self propelled barge at Unnak Alaska set loose from its moorings in a williwaw in the fall of 1946, drifting at night without power, southeast into the Gulf of Alaska. Munk's P"BY-5A made two instrument takeoffs and landings in foul weather from their base on Adak to find the barge and determine its position, drift speed and direction. Munk's expert PBY-5A crew was relieved by a highly proficient PB4Y-2 crew, then the submarine USS Bugara, to effect a thrilling rescue that beat alll odds in rescue history. Here I will just cite Munk for his expert use of an out of calibration Loran radio navigation system, and Hollenbeck who used Munk's last best position of the barge, employed radio and celestial navigation to advance the barge's drift line from Munk's last best position, to then vector a Navy submarine discovered by the PB4Y-2's AJPS-15 radar, which submarine had no useful navigation information ,having been in the storm at sea for more than 24 hours, the aforesaid vector which directed the sub to come upon and rescue exhausted soldiers on a drifting helpless barge in the Gulf of Alaska. That story is more fully told on this website at www.daileyint.com/flying/flywar12.htm
No medals, not even letters of appreciation from the Navy or any other authority, was ever rendered these men or their flight crews.Today, 2014,. rescue experts in the United States Coast Guard operate out of Kodiak. TV viewers have seen their thrilling heroic rescues in terrible weather.
Now, back to our basic recognition subject, aircraft recognition.
Skip these italicized paras if you have been here before: (1) This website, www.daileyint.com has been organized in four folders. The first folder on this website, the /seawar folder, www.daileyint.com/seawar was created, in the 1990s. It gives a web reader material from the book pictured at the upper left, about a World War II destroyer which served in North Atlantic convoys before acting as gunfire support ship for the five Mediterranean amphibious landings, Casablanca, Sicily, Salerno, Anzio and Southern France.
(2) The second folder on this website, www.daileyint.com/flying was created in 2003, to give the reader excerpts from the second book pictured on the left, about instrument flying and its place om tje history of U.S. aviation.
(3) The third folder, www.daileyint.com/mytimes was created in 2000, to give readers some episodes of my life that derive from my memoir of my Parochial School years with the Sisters of St. Joseph in Brockport, New York.
(4) You are now reading from the index page of the fourth folder in the isebsite series, www.daileyint com/wwii. This folder was created in 2005, to present to readers photos from the U.S. Navy Recognition Slide Set used to teach Navy men what they were seeing as they searched the skies in areas where there might be enemy planes.
In this foldler I will be placing mainly slide photos from the U.S. Navy Recognition Slide Set used to teach Navy lookouts aboard ship what aircraft looked like in the sky, mostly seen through 7x50 binoculars. The object was to dentify the aircraft as friend or foe.
(The bottom five links in the left hand column of links on this page revert to war tales. The first three of the five, beginning with USS West Point AP23 War Cruise-part 1 tell of the fateful journey of a Navy transport ship (originally , the liner SS America) as she leaves Halifax NS loaded with British soldiers in World War II..The first two of the five links go to the eyewitness tale told by a USS West Point Quartermaster, and the third is written by a man, as yet unborn when USS West Point reaches Singapore in late 1941, who tells of his mother's escape Singapore, Fateful Stop on "Joan's Journey" from the oncoming Japanese Armies' conquest of that city. This mother, carrying the yet unborn son who authored this episode, escapes on USS West Point as that ship races from Singapore to Batavia, Javato get beyiond the range of Japanese aircraft. The bottom two links contain a U.S. sailor's eyewitness story of his ship, the criser USS Brooklyn, in the landings at Casablanca and Sicily.)
Explanations end, content begins:
Here now, how one of those Navy Recognition slides looks when not projected, but simply laid on a background sheet and photographed with my Kodak EasyShare CX4230 camera.. These are 35mm positive slides. This one happens to be the Convair PB2Y Coronado aircraft which did not participate in World War II combat action to the best of my knowledge. Interestingly, in my third tour with Fleet Air Wing FOUR's VP-107 squdron based at NAS Kodiak, I flew as copilot for the squadron Comanding Officer, LCdr Ed Hogan USN. He had flown the Coronado when the Navy tried using that aircraft to do inflight fueling of Dutch Harbor PBYs, to see if they could get enough gas aboard to make bomb runs at Paramashiro in the Kurille Islands, and have enough fuel to get back to Dutch Harbor. These were PBY-5s and were not amphibian aircraft, so use of the runway at NAS Attu after the U.S. retook that island was not feasible. However, the PV-1 Venturas did make that round trip, though many were lost and some crash landed in Siberia attempting to return to Attu.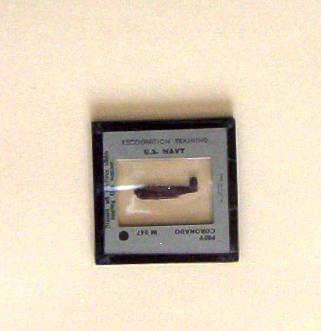 WWII Navy Recognition slide, photographed, not projected. (See below this same Navy PB2Y Coronado slide, as projected in a slide projector, as a Navy crewman aboard ship in World War II would have seen the aircraft.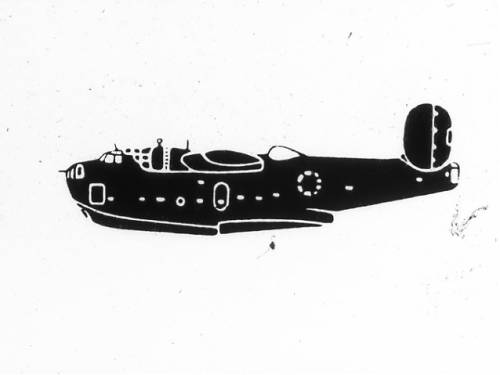 When the slide is used as intended in a slide projector, one sees the outline sketch above, of the Convair PB2Y Coronado. This aircraft was a 4-engine flying boat, as sketched for a Navy recognition slide. This aircraft likely never participated in combat. Perhaps, just in case an air defense gunner in California saw a plane like this, he would realize it was 'friendly.'
Ships and Aircraft of World War II(most photos from U.S. Navy WW 2 Recognition Training Slide Set)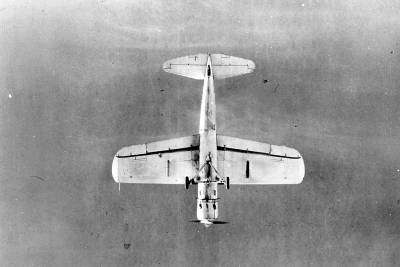 Above, an OS2U Observation Scout floatplane, by Vought Aircraft, carried by battleships and cruisers in the U.S. Navy on the eve of WW II;.(U.S. Navy WW II Recognition Slide Set)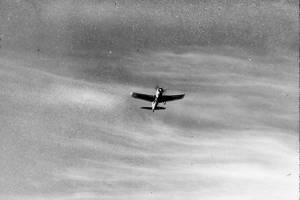 Another view of the OS2U; (U.S. Navy WW II Recognition Slide Set)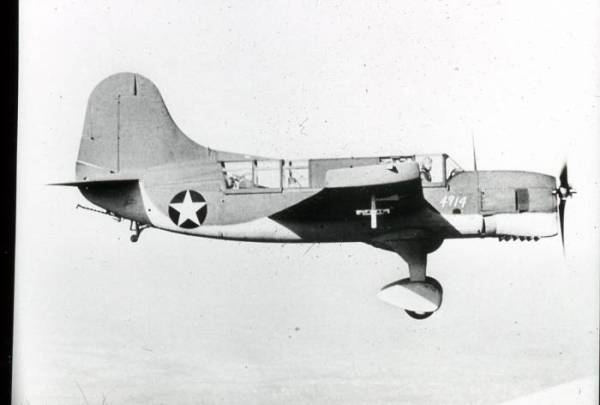 An SO3C, Navy's intended replacement for SOC aircraft on cruisers; (from the U.S. Navy WW II Recognition Slide Set- in rare landplane configuration.)
This SO3C aircraft was designed and built for the Navy just before World War II . The sudden advent of the war left the Navy 'making do' with its earlier SOC floatplane. I persnally never saw a 'floatplane' on wheels but always in their waterborne configuration. "SO" was the Navy designation for Scout Observation and "OS" was for Observation Scout . The appending alphabet letters were for manufacturers. The "C" in SO3C was for Curtiss. The "U" in OS2U was for Chance Vought.
Designed for catapault operation off a cruiser or battleship, the SO3C aircraft was normally fitted with a single large float underneath the fuselage and a smaller wingtip float under each wing. Intended primarily for at-sea launch, and sea recovery from cruisers and battleships, aircraft in the Scout and Observation class could be fitted with fixed landing gear to operate off airfields.
The then prevailing (late 1930s, up to U.S. entry into WW II) floatplane models, SOC and OS2U, actually served through the war. The U.S. Navy priority for war production went to the carrier-based fighters and bombers and it was not operationally persuasive to be introducing new aircraft of the scout or observation type to the fleet with a war going on. I do not recall ever seeing the SO3C aircraft on an operational ship in WW II. Its likely mission was to be used for utility purposes in the continental U.S.
A later page in this folder (wwii) series will show an SOC on the catapault of a U.S. cruiser. Some very exciting ,crucial, moments were contributed by earlier design cruiser-based SOC scout aircraft in the "Torch" invasion that targeted Casablanca in November 1942. More such moments occurred off Sicily in July 1943. These can be found in mybook pictured at the upper left on this page, "Joining the War at Sea 1939-1945. In that book, the photo illustrations included the aircraft that participated in the war actions that my destroyer was involved in.
Before finishing this series on floatplanes, take a look at this one.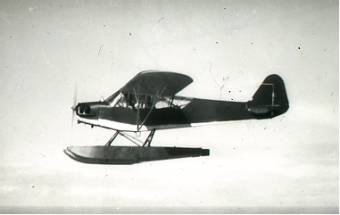 An Army Piper L-4 Grasshopper aircarft converted by the Navy to a floatplane for ambulance use.
I saw many Piper L-4 Grasshopper aircraft in five World War II invasions beginning with Casablanca, then Sicily, Salerno, Anzio and Southern France. This was an amazingly adept use by the U.S. Army of a simple airframe for spotting gunfire and other uses. Altho in our Navy Recognition slide series, I never saw the float version pictured.
---------------------------------------------------------------------------------------------------------------------------
.. Here now, a look at a carrier based plane, standard U.S.Navy equipment at the outset of World War II.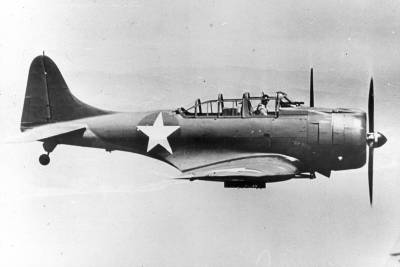 Above, the Douglas-built SBD, the Navy's carrier-based bomber. It made news at the Battle of Midway!
The U.S. Navy's Recognition Slide Set includes ships and aircraft of all nations, which had or even might have had an involvement in World War II, including Army, Navy, Marine Corps and Coast Guard!
The next set of three slides show the U.S. Army Air Corps B-25, Mitchell bomber, one of the most important combat aircraft of World War II. Squadrons of this aircraft were in the South Pacific war early, and the aircraft served with distinction in Europe. This is the plane that Jimmy Doolittle and his pilots and crews flew as they took off from the carrier USS Wasp, and bombed Tokyo. Crews of Navy ships needed to correctly identify this plane as 'friendly,' so the U.S. Navy recognition slide set contained many shots of her in different aspects.
U.S. Army Air Corps Mitchell B-25 bomber as Navy crewmen might have sighted her, incoming! Do not Fire! Friendly!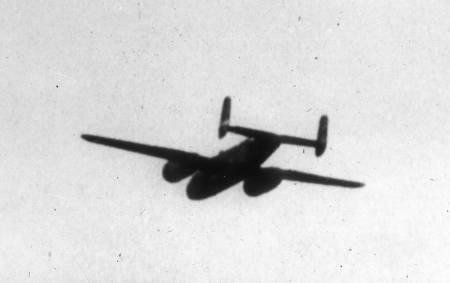 Army Air Corps Mitchell B-25 bomber, as Navy crewmen might have seen her, going!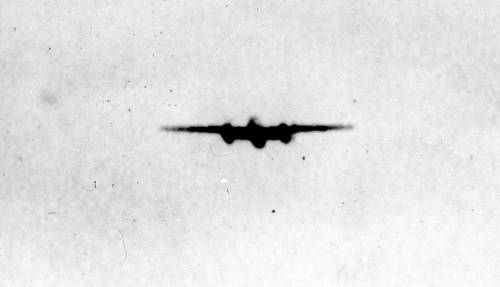 Army Air Corps B-25 Mitchell bomber as Navy crewmen might have seen her, distantly, a little harder to identify.
I will close this introductory page with a more recent photograph. I am not good with a camera but the scene makes this picture.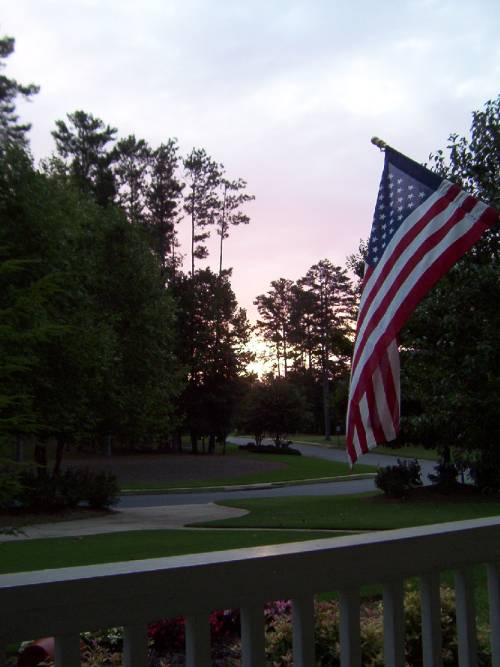 Sunrise at Alpharetta (Georgia) Veteran's Day 2008
Franklyn E. Dailey Jr. July 20, 2007: Page Revised July 31 2011 ; Revised August 3, 2012; Revised January 7, 2014