Part I.(Chapter 1. of the book whose cover is pictured contains 18-pages on speed, endurance and altitude records. These aviators were doing double duty by proving the airworthiness that aircraft would need for instrument flight.)

Enhanced aircraft endurance and the ability to sustain a cruising speed put a young aviation industry at the threshold of passenger flight in 1929. These two performance factors were essential before any concerted effort could be made by an embryonic airline industry to attempt to publish and maintain departure schedules. One steep challenge was yet to be confronted.

Air by day and train by night was the early practice. Plane departures could take place only when the weather was clear. Read the book and discover how the weather was finally challenged.

The year 1929 brought a rush to commercialize in aviation. New air carriers entering service that year were: National Air Transport, New York-Chicago, using the airmail route via Cleveland and Toledo; Boeing Air Transport, Chicago-San Francisco, following the air mail route west of Chicago; Transcontinental Air Transport (TAT), New York to Los Angeles and San Francisco via St. Louis, Dodge City and Las Vegas; this began as an air-rail setup using TAT in the air by day and the Pennsylvania and Santa Fe Railroads at night; Colonial Air Transport, New York-Montreal and Boston-New York, carrying passengers and air mail.

Others joining or announcing plans to join this air passenger business race were Pitcairn Aviation flying between Atlanta and Greensboro and Western Air Express operating from Los Angeles to the Missouri River and Denver to Los Angeles.

In Europe in 1929, Imperial Airways announced London-Bombay service which was to originate in London with an 18-passenger plane called The Great Argosy flying by day to Switzerland, where its passengers transferred to rail at night which took them to Italy. The Great Calcutta, a giant seaplane, took over at Genoa, flying south to Rome, where it was to "stop an entire day to enable the passengers to rest." I will spare the reader the remaining stops on that route. Frequent changes of vehicles became the highlight of that lengthy route plan.

As our border neighbor to the north, Canada's efforts in aviation were of direct interest to U.S. citizens. In July 1929, Canadian Airways entered into a contract with their government to connect Montreal and Detroit, initially for airmail only. One flight left Montreal and one left Detroit each morning, arriving at the opposite country's city each afternoon by four o'clock. Cities served along the route were Toronto, Hamilton, London and Windsor. Canada, with a population of 9.5 million, had 262 registered aircraft in 1929 and forty-three airports. Canada's aeronautics authority recorded a roster of 191 private pilots, 241 commercial pilots and 234 air engineers in 1929. For 1928, the U.S. Department of Commerce reported that 4,346 aircraft of all types, land, sea and amphibious, had been manufactured in the U.S.

Lieutenant Herbert Fahy established a new solo endurance record in May of 1929. At Los Angeles, he made a non-refueled, solo flight of thirty-six hours and fifty-six minutes. That month also at Ft. Worth, Texas, two pilots, Robbins and Kelly, broke all endurance records for sustained flight in their single engine monoplane, the Fort Worth. They had been in the air for 172 hours, thirty-one minutes, and landed when a propeller blade cracked and began vibrating severely. Just a month later, pilots Mitchell and Newcomb broke that record by a little more than one hour at Cleveland. A week after that, back in Los Angeles, pilots Mendell and Reinhart broke the record again with a flight of 246 hours and 43 minutes. They landed only when the tail group (the horizontal stabilizer.and elevator and the vertical fin and rudder) of their aircraft, Angeleno, became fouled, requiring an immediate landing. That flight also established the reliability of their Wright Whirlwind 220-horsepower engine. That engine went on to become one of the standard aircraft power plants in aviation.

In the midst of a summer of endurance records, on June 13-14, three Frenchmen flew from Old Orchard, Maine to a landing on the beach at Comillas, a fishing town near Santander, Spain. This flight was the sixth straight Atlantic crossing if we begin the count with Lindberg's historic solo flight in 1927. The French crew's destination had been Paris but a stowaway from Portland, Maine, may have caused slightly increased gas consumption, forcing a premature landing. Their plane bore the name, Yellow Bird. This Yellow Bird took a route slightly to the south of east making landfall in the Azores before turning northward toward Paris, and falling just short of that city by 500 statute miles. This flight is notable because by means of regular radio contacts with landmarks and ships along the way, the flight crew adjusted its course based on its fuel remaining, the weather ahead, and alternate airport options. With air to ground or air to sea communication, flight course could be adjusted along the route. What the series of flights over the Atlantic between the U.S. and Europe, along with the domestic U.S. endurance flights, had begun to demonstrate in the 1927-29 period was that engine reliability had been attained, and that other aircraft systems were advancing in reliability as well.

U.S. Navy Lieutenant Apollo Soucek broke the flight altitude record in May of 1929 with a flight to nearly 39,000 feet and just two weeks later, German aviator Willi Neunhofen broke that record by reaching nearly 42,000 feet. While flight at high altitudes was undertaken first by military pilots testing new frontiers in military aviation, in the longer view it meant that high altitude commercial air traffic could fly clear of low altitude "clutter" with the added benefit of lower fuel consumption for city to city transit.

Captain Frank Hawks set a new transcontinental U.S. speed record with a flight of just over 19 hours westbound Roosevelt Field to Los Angeles on June 27 and 17 1/2 hours eastbound on June 29, 1929. His plane was the Wasp Lockheed Air Express. The third anniversary of the aeronautics branch of the U.S. Department of Commerce was celebrated on July 1, 1929. Thirty thousand air route miles were now being flown domestically, with ten thousand of those miles served by light beacons. First half 1929 totals of passengers and of mail in pounds equaled the totals of all of 1928. 5830 aircraft were registered in the U.S. in mid-1929. California was way ahead with nearly a thousand, and Alaska had nine. Airline operators, now 45 in number, had 400 aircraft in their operating inventories.

Charles Lindbergh (almost always referred to in news articles as "Colonel" Lindbergh) and President Juan Trippe of Pan-American Airways opened a new passenger route from Miami, over the West Indies and Central America in September of 1929. Havana, and Parambiro, Dutch Guiana, were outbound stops, with Central American stops on the return to Miami completing the route structure. Mrs. Lindbergh and Mrs. Trippe accompanied their husbands on the maiden flights.

The St. Louis Robin, piloted by Dale Jackson and Forest O'Brine stayed aloft in the St. Louis area for 420 hours and twenty-one minutes.

Original narrative breaks here for isnsertion of a 1929 photo with credit to source.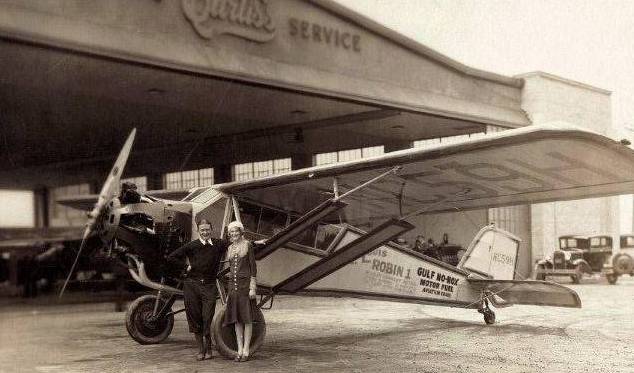 Dale "Red" Jackson and wife Sally Jackson stand next their 'Robin 1' in front of Curtiss hangar at St. Paul Mn in 1929 after record endurance flight. (Photo supplied by their neice, Darlene Lockrem Smith, in August 2015)
Within hours, still in August 2015, a query was made to Bruce Sorensen, a retired Braniff/Northwest Airline pilot, to seek further pinpointing of this Curtiss hangar. Here is his reply:.
":I have looked closely at the photo of the Curtiss Robin and the hangar. Yes, there were two small hangars at the Curtiss Northwest Airport in what was then St. Paul.
"That airport was next to the current State Fair Grounds. I am going to submit a link which has several photos of this airport and several pretty good photos of those 2 hangars. http://www.airfields-freeman.com/MN/Airfields_MN_Minneapolis.htm
"As you can see, the hangars in those photos do not look at all like the hangar on your web site. Therefore, I don't think that picture was taken at the Curtiss Northwest Airport.
"Let me speculate for a moment. My first impression of your photo of the Robin and hangar was it was taken at a substantial facility. By that I mean a large company facility judging by the quality of the hangar structure and the aircraft inside. The hangar windows look to me to be of an industrial type. I noted the word 'Service' next to 'Curtiss' on the sign above the hangar door. This could very well mean a fixed base operation selling and servicing Curtiss products or even the Curtiss factory itself. The Curtiss facility in St. Paul was a small fixed base operation that dealt in selling used Curtiss airplanes. I hope I've been helpful."
Bruce
End of August 2015 insertion of photo and explanation of where photo was taken. Resume original text.
Also in September of 1929, nineteen women participated in the Women's Air Derby from Santa Monica, California, to Cleveland, Ohio. Thirteen completed the flight and Marvel Crosson suffered a fatal crash the second day out. On September 13, at Hasbrouck Heights, New Jersey, the first of a planned manufacturing run of twelve Fokker F-32 aircraft made a flight demonstration. Designed for 32 daytime passengers or 16 at night, this plane cruised at 150 mph, and was poised to begin service in the transcontinental plane-train system of the New York Central Railroad and Universal Air Lines. There were four engines in two nacelles of the F-32, with the rear engine in each nacelle configured as a pusher engine. In the flight demonstration, first the two rear engines were idled with no loss of altitude and then the front engines were idled, with the plane again maintaining stable flight. Passengers sat four abreast, with an aisle between. Tall passengers did not have to stoop down. Two washrooms and one kitchen were installed.
By 1930, the U.S. Department of Commerce was reporting 10, 215 registered pilots nationwide with California leading with 2,076 and New York second with 1,007. In California's total pilot count, there was a subclass of 903 who were designated as transport pilots. Alaska had seven pilots, five in the transport classification.
An airline flying to South America bankrolled a conversion of the Navy's PY-1, a seaplane, for passenger use with space for 20 passengers. Igor Sikorsky was at work in Connecticut on the world's largest seaplane intended for commercial passenger flight with an announced customer, Pan American Airways. This aircraft became the famed Clipper.
The U.S. cross-country speed records for single pilot, dual pilot, refueled (stopping at an airport, enroute) and non-refueled flight were changing hands every month in 1930. Lt. Apollo Soucek regained the world's altitude record at 43,166 feet. (Note: I had originally stated on this page that Soucek regained the world altitude record at "nearly 43,000 feet." On 2/2/04, I received an e-mail from Soucek's cousin, Allene Rollier Niehaus, informing me of the correct altitude reached when Lt. Soucek regained the record.) Amy Johnson flew solo from Croyden, England to Australia. The Bellanca monoplane Columbia round-tripped nonstop, New York-Bermuda, putting the floating island airport further into memory's recesses. Lt. Col. Roscoe Turner set a new east to west record, for flight with a single stop, using less than 19 hours in the air.
With two French pilots, the aircraft Question Mark made another record. They flew it from Le Bourget Field in Paris to Curtiss Field on Long Island. The aircraft landed with 100 gallons of fuel remaining and the motor "needing only a new rocker arm and grease and oil." A French woman taking off from Le Bourget just hours after the Question Mark departed set a new woman's record of 37-hours for solo, non-refueled, flight. Captain Hawks set a new Los Angeles to Curtiss Airport on Long Island speed record of just under 12 1/2 hours. This was accomplished in a Travelair low wing monoplane with a Whirlwind engine, averaging over 200 miles per hour for the 2510-mile route. Dale Jackson and Forest O'Brine regained the endurance record with a 647-hour flight in the Greater St. Louis. Only a crack in the crankcase brought them down. O'Brine determined that this was the difficulty by crawling out on a catwalk during the flight.
While engines with liquid cooling had powered the U.S. automobile revolution, it became evident that the air-cooled rotary engine was winning the contest for reliability in the air. With Burbank, California as the objective, departing from her native New York City, Ruth Nichols set a new (actual flight time) cross country east-to-west U.S. record late in 1930 in a Crosley-Lockheed-Vega monoplane. That plane was powered by a new 450 horsepower rotary engine.
The 10th west to east flight over the North Atlantic was completed on October 10, 1930. Ex-military pilots Boyd of Canada and Connor of the U.S. flew old reliable Columbia from Newfoundland to a beach landing on one of the Scilly Isles off the southwestern tip of England. They had gas left but their gas line became fouled, forcing a premature landing.
The non-refueled flight of a Bellanca powered by a Packard diesel engine broke the endurance record for non-refueled flight by staying aloft for nearly 85 hours. Though the reign of the diesel engine in endurance flying was short, it exceeded that of the nuclear powered plane later in the 20th century which never quite made it past the drawing board.
Germany's Do-X, a twelve-engine flying boat, made several successful flights in 1931, one to South America. This was a huge aircraft, with only the Howard Hughes seaplane after World War II in its size class. The twelve engines of the Do-X were in six nacelles above the high wing of this huge monoplane, six pulling and six pushing. The Do stands for Claude Dornier who designed many successful warplanes for Germany's Luftwaffe in World War II.
A public demonstration was made at Houston's Municipal Airport on May 31, 1931 of one plane whose flight was automatically controlled by a pilot in another plane. A transport pilot was aloft in the plane to be controlled because of a government regulation that there be a licensed pilot aboard any experimental plane flying over an "incorporated city." Control was surrendered for about fifteen minutes to the pilot with the "master key" in the control aircraft. I suspect that the transport pilot in the remotely controlled aircraft was handy not just because of the experiment in radio control over the incorporated city. He undoubtedly took the plane off and landed it.
The National Air Races at Cleveland, Ohio opened on August 28, 1931. Never before and perhaps never since have such a large group of the world's leading names in aviation gathered together. Russell Boardman and John Polando had just flown nonstop from New York to Istanbul, Turkey to set a new world distance record for non-refueled flight. They came to Cleveland along with Lt. Al Williams, holder of the U.S. landplane speed record. Also there was Major Ernst Udet, the German war ace of World War I credited with 62 planes.
The major event of the National Air Races was the race for the Thompson Trophy. It was won in 1931 by Lowell R. Bayles of Springfield, Massachusetts in the Granville Brothers' Gee Bee, which set new record for a closed course race of 236.2 mph. Their chief rival, Major Jimmy Doolittle, was forced out in the seventh lap by an overheated engine.
There was money to be won at the National Air Races. Major Doolittle was the top money winner with $10,000. Bayles was next with $9,300. These prizewinnings were followed by:
Mae Haizlip of St. Louis with $7,750.
W.J. Wedell of Patterson, LA with $5,800.
Phoebe Omlie of Memphis with $4,250 plus an auto she won worth $2,500.
John Livingston of Aurora, Il with $6,280.
Florence Klingensmith of Minneapolis with $4,300.
Maud Tait of Springfield, MA with $4,250.
Robert Hall of Springfield, MA with $3,150 rounded out the top ten money winners at the National Air Races in 1931
On September 29, 1931, Britain's G.H. Stainforth set a new speed record of 408.8 mph. The engine was a Roll Royce liquid cooled inline engine that used a refined gasoline containing additives of ethyl and wood alcohol. The engine generated 300 more horsepower than had ever previously been demonstrated, though in its early years this engine had a short maintenance cycle. These inline engines powered most of the land based Allied fighters used in the early years of World War II. Though their cooling systems were vulnerable to enemy fire, these fighter and fighter-bomber aircraft could match or beat the performance of most counterpart German planes.
In the Journals of the 1927-31 period, there was power in the name, Lindbergh. Many Journals were organized alphabetically with a Table of Contents just a few pages in from the front cover. "Aviation" news came just before "B." Lindbergh had become such a compelling name that many stories about him and his life could be found under "L." Indexing scholars, knowing the power of the Lindbergh name, often put an extra indented subheading under "Aviation," page "A-something." Often, the subhead read, "See Lindbergh" page "L-something."
The foregoing are just a few of the highlights of aviation's progress in the 1929-1939 period. What those pilots and designers accomplished in first-ever flights set the stage for aviation's great leap forward in World War II. Many of the names that made the news identified dashing young men standing next to or sitting in the cockpits of their astonishing aircraft. There was glamor. But, there was notable accomplishment as well.
The pace of aviation activity from 1929-1931 can be inferred from the fact that this Appendix includes just a tiny fraction of the names, places and records that deserve equal billing with the foregoing aviation experiences. Because my intentions are to emphasize advances in pilot experience, advances in the mechanical reliability of aircraft systems, and progress in flight through instruments, choices in the records to cite are biased toward emphasis of those factors.
Here is a "stat." The following news item appeared in the Springfield (MA) Union-News on August 2, 2001. "In 2001, a fleet of 7,000 planes makes 8 million scheduled U.S. commercial flights a year carrying 600 million passengers. Saturation is occurring in the U.S. air traffic control system. At the 30 busiest airports that handle 70 percent of U.S. air traffic, only six new runways have entered service in the most recent 10 years." This is part of aviation's record. This part of the enduring record, as contrasted with the specific "endurance, speed and altitude records." Those records helped aviation underpin its accumulated record.
Most of the pages in "The Triumph of Instrument Flight: A Retrospective in the Century of U.S. Aviation," are devoted to actual experiences from all sectors of aviation. The pages in this book bring readers into the cockpit. I hope they will enjoy adventure and a learning experience. This is not a "how to" book. In the few instances where technology is pivotal, I try to keep it simple.
Another aviator's book is used as a reference for the birth of his airline. He is Robert Mudge and he is still living in Massachusetts.
The "retrospective" word in the title for this book is an indication that U.S. aviation history was reexamined. For the first time, we can now see that two principal threads in flying, each beginning within a few years of the other, came together and set the stage for the aviation industry that we know today. I will leave to readers to discover what that juncture was, and how an essential threshold was then crossed. That portion of the published book, in terms of word volume in comparison with the adventure experiences mentioned above, is small, but crucial.
Instrument flight is flying with no earth horizon as a reference. Why is that important? Without the ability to control the flight of an aircraft, from takeoff to landing, despite clouds, haze, smoke, snow and other obscurations to earth and particularly earth's horizon reference, the progress of aviation, strong in its first three decades, would have been completely stunted. In 1929, the newly formed airlines' planes took off in the morning when the weather permitted. They would land in the afternoon and put passengers on a train for the night. The competition was rail.
The sight of the Conductor leaning out of a passenger car, Hamilton watch in one hand and lantern in the other, signaling the Engineer to leave the station, has been repeated millions of times, with almost never a delay for the weather. Air travel needed a way to "leave on time." Some solution to clouds and rain and snow and fog had to be found.
The Wright brothers built and flew the first successful powered airplane in December 1903. In all essential aspects, the Wrights had it right. They needed lift from the wings. To obtain lift they needed a motor to create forward thrust. Just as important, they needed flight control and they got it from flight control surfaces. As pilots, the Wrights exercised intelligent flight control by visual observation of the earth beneath them. Their elevator and their rudder were their flight control surfaces.
Glenn Curtiss came along just a few years after the Wright brothers. The Wrights had developed mechanical expertise in the bicycle business. Curtiss had been building motorcycle engines. Curtiss was able to add power to the airplane engine. Curtiss and the Wrights became competitors.
Early flight control surfaces are visible on Glenn Curtiss' "June Bug" pictured in the book. Upfront is the elevator and behind the pilot was the rudder. Curtiss was later persuaded to put the elevator back with the rudder.
The Wright brothers knew they needed a flight control to counteract the tendency of their airframe to roll to one side or the other. This was accomplished by whichever brother was flying the plane, who as pilot was lying prone on a bottom wing which could flex. Aided by moving his own weight, the pilot could literally warp the lower wing to help control the tendency of the craft to roll from side to side. They had designed their wing to achieve a crude form of aileron control.
Just a few short years after the Wrights' first flight in 1903, Glenn Curtiss improved on wing warping by providing the triangular sections at the end of the wing of his "June Bug," the early "aileron." After the Wright's "elevator" and "rudder," this "aileron" became the third discrete flight control surface. Curtiss moved the aileron by leaning his shoulders left or right to move an actuating cord that stretched beside him in his pilot seat.
The French completed the basic flight controls by giving the pilot foot pedals to control the rudder, and a "stick" to control elevator and aileron. In the meantime, Curtiss had added not just power but also reliability to the engine.
Most important for this flying story, aircraft now had three flight control surfaces and the means to move them. In clear weather, pilots used their visual sight reference to move the flight controls for safely conducted flight.
The retrospective then moves to World War I, then to flying the mail using light beacons, and ultimately the third decade of the 20th century, particularly the years 1927-1931. Lindbergh flew the Atlantic to Paris in 1927. He kept awake for 33 hours. Just as important, his radial air-cooled engine kept humming for those 33 hours. Some speculated that the flight was a fluke. All accorded it as a hugely popular event.
In early sections of the book, the reader gets a brief glimpse of the author's first introductions to aircraft, up close. A Curtiss Jenny story is followed by a Stinson Detroiter experience.
The author's 1929 ride in a Detroiter led to an appreciation for a very early and very successful corporate aviation experience.
The Lindbergh feat certainly gave a boost to the efforts of a group of aviation enthusiasts, some daring, some cautious, some who blended daring and caution in the right mixture. Month by month in the years 1929-1931, pilots shattered endurance records, one week in the air, two weeks in the air, and more. Other pilots, men and women, month by month, set new point to point speed records.
Going back to the National Air Races at Cleveland in 1931. Lowell Bayles of Springfield beat out Jimmy Doolittle for the coveted Thompson Trophy. Bayles was flying the GeeBee, designed and built by the Granville brothers.
St. Louis, Los Angeles and Texas provide stories of early success. Tokyo and Wenatchee, Washington share a story of achievement. Lindbergh makes another important and revealing flight, this time with his wife, Anne. The years 1929-31 provided a plethora of record-making and record-breaking flight events.
For the progress of aviation, the speed and endurance feats were much more important than just winning the race or setting a record. Designers and pilots were establishing the aircraft as a reliable, high performance device. All were making history, though in the acclaim of records, some may not have realized the impact.
Collectively, these men and women proved that aviation was here to stay. It would change the history of the world in many ways. The subject of instrument flying would never have become relevant if aircraft had not achieved reliability, and flying them more than a novelty.
While the Wright brothers and Glenn Curtiss and Igor Sikorsky and the Granvilles and Stinsons and those who flew their aircraft were moving the chalks, so to speak, from novelty to practicality, two brothers and their father had been working in a Long Island laboratory, and with demonstration aircraft, on their vision of an autopilot for aircraft. Their contribution would have the potential to lead to published schedules for air transport departure times, and then, despite clouds, rain and even fog, getting aircraft off at published departure times.
One crucial step remained after the autopilot was demonstrated.
The ultimate blind landing anticipated by Lawrence Sperry in 1914 was still 80 years in the future. It came into being in the last decade of the 20th century in the Boeing 757-767-777 series of transport aircraft and in military aircraft.
When the gyro horizon and the directional gyro instruments came to the pilot's panel, and ground/air radio aids to navigation replaced light beacons, instrument flying became a core strength for aviation's future.
Part II U.S. Navy's aviation training commands were ill prepared for the nation's rapid return to civilian life after World War II.
war and peace (with title apologies to Tolstoy)
( Foreword: The United States began its World War II Pacific counteroffensive at Guadalcanal in August 1942, and its European- -North African effort at Casablanca in November 1942. In defeat at Pearl Harbor, and with a 'draw' at Midway, the U.S. Navy still managed to get U.S. Marines ashore at Guadalcanal, albeit tenuously. At Casablanca, the Navy and U.S. Army units began a successful five-operation victory sequence in the Atlantic-Mediterranean theatre. For events told below, a U.'S. Naval Academy graduate of June 1942 covers some combat training lossess in wartime, followed by a series of postwar (1945-1946) non-combat naval aviation training losses in peacetime. The contrast was wartime training and peacetime training. The reader will have to set aside the differences between amphibious training and aviation training, and focus on the acceptability of training losses in wartime vs. training losses in peacetime. Franklyn E. Dailey Jr. Capt. USNR (Ret.)
In my book, "Joining the War at Sea 1939-1945," I re-live 27-months at war on a gunfire support destoyer, serving by the end of five majoramphibious landings in September 1944, as her Gunnery Officer. In a second book, "The Triumph of Instrument Flight," I record some aspects of my flight training, which occurred during the last year of World War II. Except for this training, this second book is all post-World War II experience.Ffamilies who lost loved ones in naval air training accidents in 1945 and 1946 would find the war-peace distinction a blur.
U.S. landings at Casablanca in November 1942 marked the beginning of the Allies' effort to defeat two Axis nations, Germany and Italy. Included by then with Germany, was Vichy France. Just two months before the U.S. Army took Casablanca, the U.S. Marine Corps, in August 1942, landed on Guadalcanal. Our nation had begun the long and costly fight to turn the tide against Japan. I devoted some early paragraphs in "Joining the War at Sea 1939-1945," to the Guadalcanal effort, even though that landing was not operationally connected with the Allies' effort in the European-North African theatre. It was simply my duty to note that Guadalcanal preceded Casablanca. Human linkage was not in my thoughts.
The Marine Divisions in the Pacific fighting had been trained in amphibious landings. The Army Divisions dedicated to the European/North African theatre lacked amphibious experience. To cover this gap, the Allies adopted training 'on the fly,' so to speak. I can personally attest that amphibious training in 1942-43 off the coasts of both England and at Arzeu in North Africa, resulted in grievous soldier losses. Those training losses are remembered for the lives lost, but largely put aside as war training losses, I submit, because we were on a build-up to defeat Nazi Germany.
The war ended in August 1945. Almost, abruptly. The scene on the battleship USS Missouri is an enduring memory. I received my Navy wings in October 1945. Leaders at the top, and trainees at all stages, had to process change-information, good news, but news that came at a dramatic pace, and at a price.
In December 1945, just three months after the Japanese surrender, on a page in my instrument flight book, I describe learning to use an APA-5B (Norden-adapted) radar bombsight, on a PBY-5A aircraft, flying over targets at NAS Banana River, Florida. (Later, Patrick AFB.) Even as we trained, we knew that a sophisticated bombsight in a low, slow, amphibian patrol aircraft, did not constitute a weapon system.
Then came a perceptible change in our bombsight training, when our patrol planes were sent out to sea! We were to search for the five TBMs of Flight 19, on Dec. 6 and Dec. 7, 1945. In the PBY-5A in which my friend and Naval Academy classmate Lt. William 'Barney' Rapp USN, and I, were acting as lookouts, as students we were not informed that a PBM aircraft out of NAS Banana River the night before, had been lost, with its entire crew of 13-men, during early search hours for Flight 19. I would also learn, much later, that "Flight 19" went out on a Sunday, the fifth of December 1945, from NAS Ft. Lauderdale, and that only the flight leader of the five TBM aircraft had a radioman aboard! Not one of the other fourTBMs, those that students piloted, had a radioman aboard. No backup radio navigation was available.
Naval training stations, along with operational units, were decimated in WW II's postwar months, as men with 'points' left service, often abruptly. Barney Rapp and I were career Navy officers and went on to complete PB4Y-2 "Privateer" co-pilot training at NAS South Whiting Field at Pensacola, Florida, in May 1946. On May 10, 1946, in our final scheduled training flight, two of our "flight of three" PB4Y-2 Privateers collided in air during a gunnery training flight in which they were defending against a simulated attack by an F6F Hellcat aircraft. All 27 men aboard those two PB4Y-2 aircraft were lost. The PB4Y-2 aircraft in which Lt. Rapp and I were training, third of three in our training group, did not make the gunnery training flight that day because an engine was being serviced.
14 men in Flight 19, 13 men in the searching PBM, and then 27 men in the other two PB4Y-2s in my training group, were lost in a six month period! Naval Air Training operations lost 54 men and 8 aircraft in the December 1945-June 1946 period. These losses occurred just in operations in which Lt Rapp and I had a part. Rapid downsizing had led to experience gaps at every level in command structures.
Years later I would learn that one of the five TBMs lost in Flight 19 was piloted by another Naval Academy classmate, student pilot Captain George William Stivers, USMC. George had been one of the Marine heroes in the landings that began in August 1942 on Guadalcanal. The contrast between lives lost in war, and lives lost as forces trained, was brought home in a personal way. From a page in my seawar book, an epitaph is quoted that had been etched on a mess kit over a Marine buddy's Guadalcanal grave. It reads:
"And when he gets to heaven, To St. Peter he will tell: One more Marine reporting Sir- I've served my time in Hell."
Watery graves support no epitaphs. Maybe the Marine memorialized in the epitaph on Guadalcanal can share his with fellow Marine, George Stivers. And, many others.
*In 1945, 'east legs' of low frequency radio range stations, from Navy bases up and down the east coast of Florida, stuck out into the Atlantic like crazy spokes on a bicycle wheel. As late as 1959 I used the east leg of the NAS Sanford Florida radio range station, to make an instrument approach to the NAS Sanford (Florida) airfield.
Home | Joining the War at Sea | The Triumph of Instrument Flight